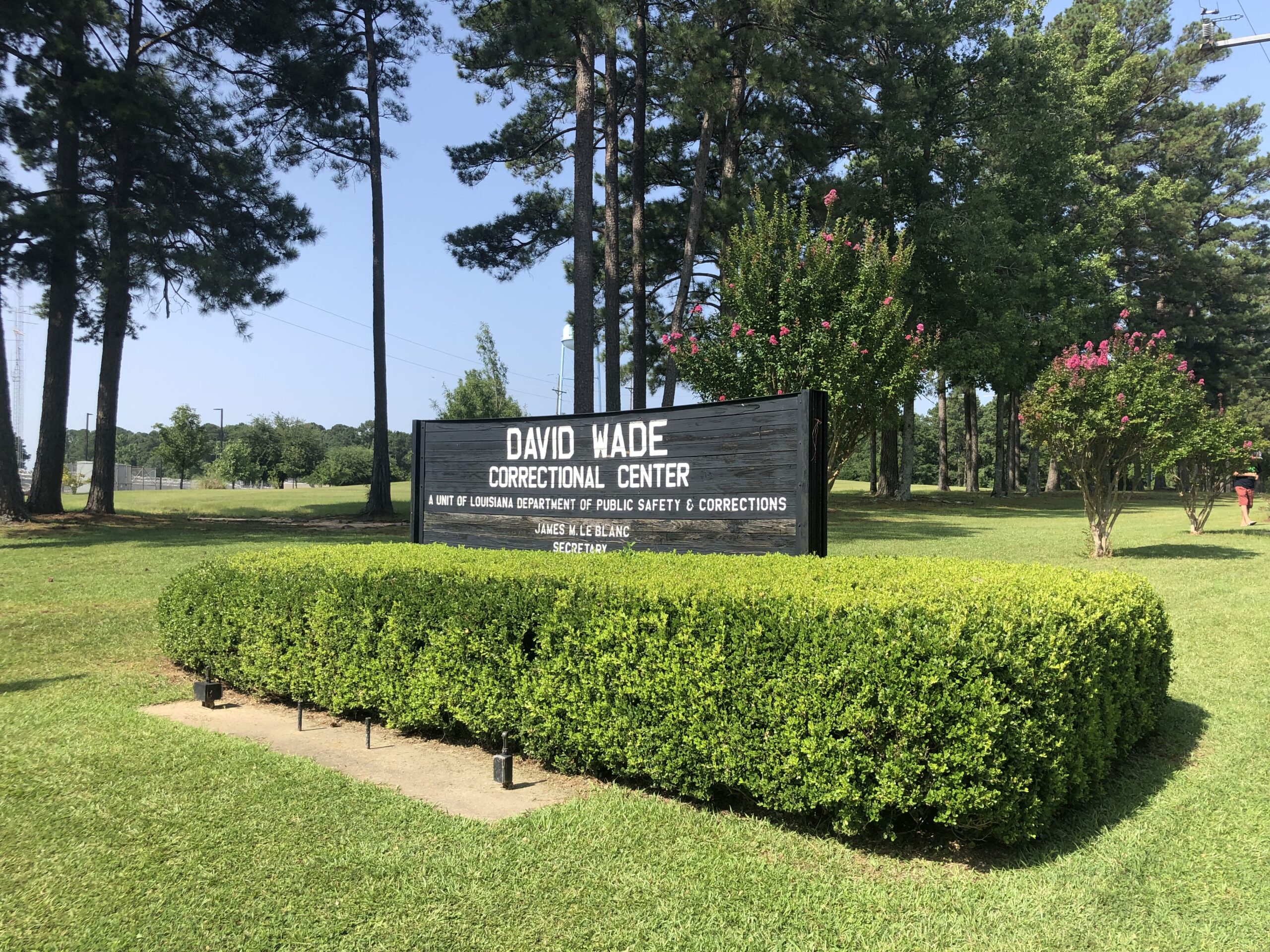 On day one of civil rights trial, former prisoners of David Wade describe years of isolation, dirty living areas and poor mental health care
On the first day of the trial of a federal class action lawsuit regarding mental health treatments and conditions at the David Wade Correctional Center – a state prison in Claiborne Parish – on Monday, several people who were previously held in solitary confinement in the institution testified that they faced needlessly harsh conditions, suffered and witnessed abuse by prison staff and did not receive sufficient mental health treatment during their imprisonment.
Melanie Bray, an attorney for Disability Rights Louisiana, an organization representing the plaintiff class of current and former prisoners of David Wade in the lawsuit, called David Wade's terms "not just punitive" but "intentionally and needlessly cruel."
The men said they were held in extended custody, a form of solitary confinement, in a concrete cell for more than 23 hours a day, where they received a 10-minute phone call a month. The cells were dirty, they said, and often smelled of feces and urine. In summer it would become "excruciatingly hot" and in winter freezing cold. They also said the guards would regularly spray individual prisoners in their cells with chemicals that emanate from the rest of the cells, affecting the entire level.
"It's like your body is on fire. It's like a heat that you can't get rid of. It is excruciating pain. It takes your breath away, "said Carlton Turner, one of David Wade's former prisoners who testified by video conference in the US District Court for the Louisiana Central District in Baton Rouge on Monday.
Lawyers for the Louisiana Department of Public Safety and Corrections have argued, however, that the state has wide latitude in the conditions under which they can hold prisoners and that the Louisiana prison system uses the solitary confinement at rates similar to those in other states across the country.
"There's no problem in Louisiana where we're throwing people into restrictive housing and it's too long or too long," said Connell L. Archey, an attorney representing DOC. "Don't let these offenders manipulate the court. "
(The DOC pointed to a 2020 study that shows the state has significantly reduced the degree of reliance on restrictive housing in recent years – but prisoners and defenders say it continues to be used too frequently and without sufficient justification.)
The lawsuit alleges that conditions in the prison, including its use of highly restrictive housing, create or seriously exacerbate mental health problems. Moreover, they say, the prison provides inadequate mental health services for these problems.
Witnesses said on Monday that they were unable to receive group therapy or individual counseling for their mental health needs during their extended confinement at David Wade, and that they were never given the opportunity to speak to the mental health personnel in a confidential setting. Rather, interactions took place in front of their cells, with other guards and prisoners within earshot.
"You don't want to talk about anything too private because these guys are going to use it against you," Turner said. "You don't want to make the situation worse. "
Turner, who was convicted of first degree murder and is currently incarcerated at Louisiana State Penitentiary in Angola, said he was kept in prolonged custody at David Wade continuously between 2016 and 2019. He said he was diagnosed with depression and bipolar. disorder. During his extended stay with David Wade, he said he attempted suicide several times.
In response to the first attempt, he said officials for David Wade denied him a confidential meeting with a mental health staff member and placed him under extreme surveillance – where he was held in a restraint chair for 12 hours straight while locked in a cell. Turner called the experience "agonizing" and said it exacerbated her mental health problem.
"It only increased the depression I was feeling, the feeling of hopelessness," he said.
Dameion Brumfield, who said he was in David Wade between 2014 and 2020 on an attempted robbery conviction but is now out of jail, said he had not been diagnosed with a mental illness. But he witnessed the lack of treatment and mistreatment of prisoners who were "considered mental health offenders" while they were in prolonged detention at the facility. One prisoner in particular to whom Brumfield testified, who he said clearly suffered from a mental illness, was frequently the target of cruel treatment by prison guards. He described a form of punishment administered by prison guards against him, which several prisoners described as "bluesing".
"They're going to take her to the shower," Brumfield said. "When he gets out of the shower, he's soaked.… It's winter. 30 degrees. It's freezing. There's ice on our windows. They'll open all the windows and turn on all the fans and point them to inside [his] cell while soaked with a paper smock. A mental health offender! And freeze it until they feel like it's had enough.
Lawyers representing the prison on Monday called the practice of "bluesing" a myth.
Brumfield said the treatment of prisoners at David Wade was not only cruel but unproductive in terms of rehabilitation.
"Even if these offenders committed the crime… there is no way in the world that society will accept the treatment they are receiving behind these walls," said Brumfield. "Society doesn't know what's going on behind these walls…. This place is not suitable. It only harms people – it creates monsters.
Willie Dillon said he suffered from depression and was unable to sleep while in extended custody at David Wade. When he was finally able to see a psychiatrist, he said he was immediately offered medication rather than any form of counseling.
"He said, 'What's going on? Do you want some pills? I said "pills? He said, "Yeah, do you want some pills? "
Dillon told a member of the mental health staff he didn't want the pills. "'I told you I was having trouble sleeping and was dealing with something personal that I was trying to figure out what was going on with me," Dillons told the staff member. "I need to talk, first of all, and see what's going on. I need to talk.'"
But Dillon said he was never offered individual or group therapy while he was at David Wade's.
In the lawsuit, lawyers also allege that prison officials frequently opened privileged legal mail for their clients in violation of their First Amendment rights. At Monday's hearing, they presented several letters sent by the men who testified that appeared to have been opened and then taped, despite the envelopes bearing the legal mail tag.
Each of the men claimed they sealed the envelopes before giving them to prison guards to send, and that no one in extended confinement had access to the tape.
In filed documents, prison lawyers argued that "any complaint about the condition of the mail" was not the fault of the prison, which "maintains good mail handling policies and complies with these. policies ".
Prisoners' lawyers are asking the judge to force the prison to implement changes that will bring conditions and mental health care in the facility to what they see as constitutional levels. The trial is expected to last four weeks.