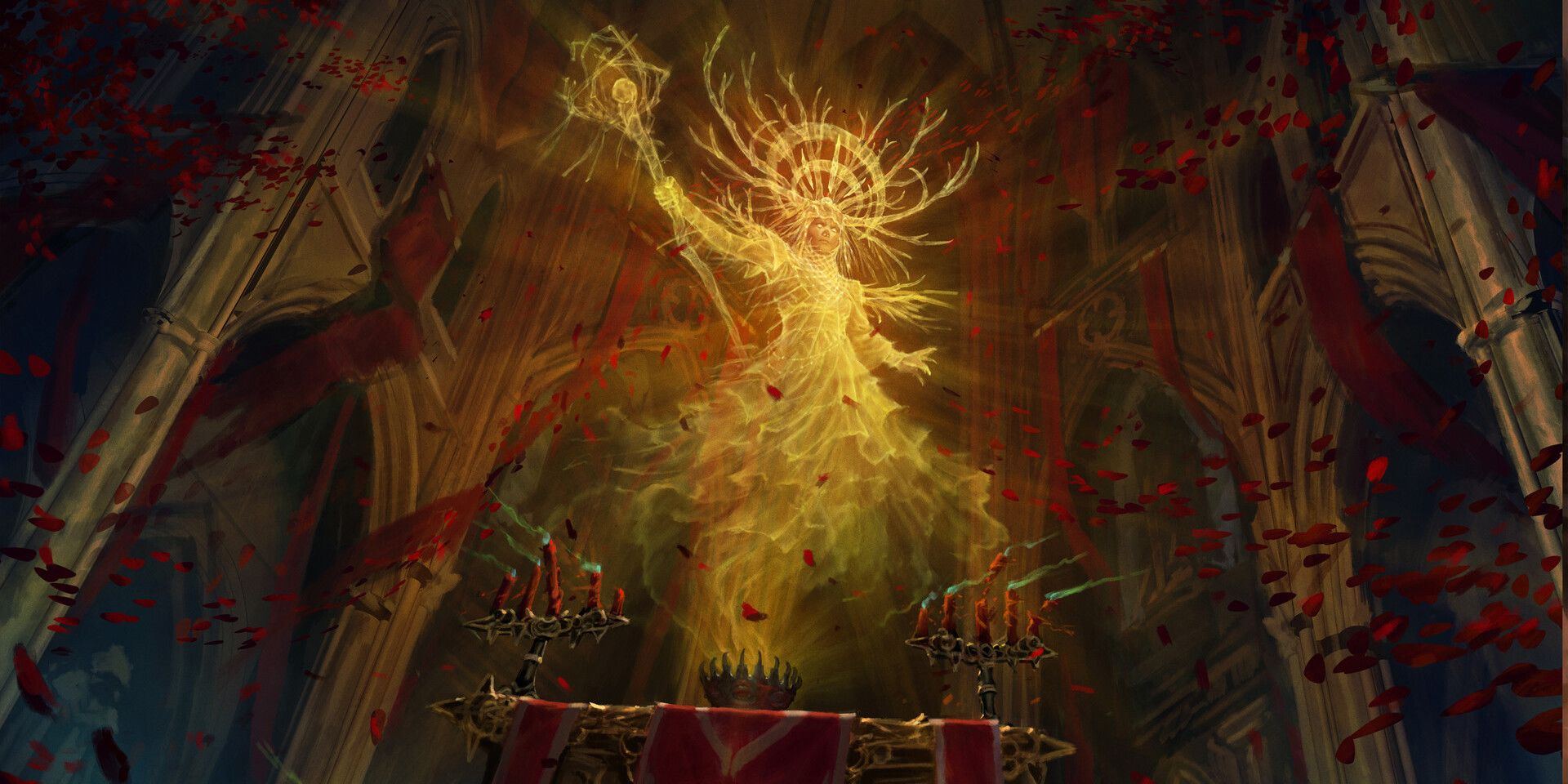 DnD 5e: Best Celestial Warlock Build
When Dungeons & Dragons players think of Warlocks, the reference image is often of secret pacts made in the dark with hellish entities or horrors from beyond the stars. However, Xanathar's Guide to Everything introduces a way to play the class in a lighter way with the celestial boss. Drawing on the power of the higher planes, celestial warlocks have access to a powerful suite of light and fire-based spells, as well as extremely effective healing. This means they can serve as a party healer, while also providing the quirkiness and customization that Warlocks are known for.
Celestial Warlocks also gain powerful secondary abilities as they level up, including bonuses to radiation and fire damage and temporary hit points for themselves and the rest of the party. If that wasn't enough, their incandescent Vengeance at level 14 makes them perfect healers. While dedicated healers often doom the party when they fall, this feature allows the Celestial Warlock to regain half health the first time they fall, even blinding all nearby enemies when they do. If all of this sounds like the perfect fit for your next campaign, here's how to create the best Celestial Warlock possible.
RELATED: Dungeons & Dragons: Why Milestones Are the Best Way to Handle Level Ups
Prioritize Charisma and Dexterity of Celestial Warlocks
Charisma is by far the most important ability score for this build. This is the Warlock's primary spellcasting stat, and as such will determine the save DC and hit bonus of his spells. This will also determine the maximum number of dice the Sky Warlock can spend on their Healing Light feature, which allows them to draw from a d6 pool to heal their allies as a bonus action. In general, it's best to only spend one dice at a time to bring allies back into the fight, but having the ability to also pump out a massive wave of healing is extremely useful. After reaching 20 Charisma, focus on improving Dexterity to improve the Warlock's armor class and initiative bonus.
Aasimar is an obvious and tasty racial choice
For this version, players must choose a race that offers a Charisma bonus, and one bloodline fits perfectly: the Aasimar. The Aasimar are descended from celestial beings, the natural opposite of the Tieflings. It gives players a perfect narrative reason why they made a pact with an angel, and even offers fun role-playing potential. It's one thing to negotiate with a mysterious extradimensional entity and quite another to play a wet-behind-the-ears Warlock getting his powers from a parent.
The Aasimar race also offer other mechanical advantages, with once-per-day healing, darkvision, and damage resistances. The best subrace choice is the Aasimar Protector, as the Fallen's +1 in Strength doesn't help much and the Scourge's area of ​​effect damage conflicts with the Celestial Warlock's healer role.
RELATED: How to Use Dungeons & Dragons' Most Disappointing Skill
Choose high damage concentration spells
Even at level 20, warlocks only get four spell slots before a short or long rest. As such, it's important to make each one count. The best strategy for Celestial Warlocks is to cast a spell like Wall of Fire that persists for multiple rounds. Then they can use Eldritch Blast to knock enemies back, keeping their bonus action free to bring back allies with Healing Light. Other critical spells are Revivify, Armor of Agathys, Counterspell, Dispel Magic, Fly, Invisibility, and Suggestion. While there are other good options, avoid other focus spells that would be used during combat.
Once the Warlock reaches level 11, he gains access to the Mystical Arcane. Instead of receiving spell slots higher than fifth level, the Arcanist receives exactly one sixth, seventh, eighth, and ninth level spell. For the sixth level, take Mass Suggestion, which is extremely useful in combat or out of combat. At the seventh level, take Forcecage, which can completely eliminate enemies from a fight, but only if you can acquire its expensive material component.
The eighth level brings with it Power Word Stun, which is an extremely powerful condition to inflict without a saving throw. Finally, at the ninth level, take Foresight. The advantage on every cast a character makes might seem disappointing compared to the overwhelming power of other spells, but consistency is key.
RELATED: Dungeons & Dragons: How To Build The Perfect Phantom Thief
Best Feats For Celestial Warlocks
Celestial Warlocks should focus on improving their limited Charisma or Dexterity ability scores. However, if players have the ability to achieve achievements, there are a few that can come in handy. Lucky is a great choice for any character, allowing players to re-roll up to three dice each day. War Caster can help maintain the all-important wall of fire, while also allowing the use of Eldritch Blast as a reaction to attacks of opportunity. Resilient serves a similar purpose if players choose Constitution, inflating a critical save. Elemental Adept allows his attacks to ignore fire damage resistance, which often becomes common as enemies get stronger. Finally, Gift of the Metallic Dragon provides another daily heal and a more limited version of the Shield spell.
Best Pact Perks and Eldritch Summons for a Celestial Sorcerer
Warlocks get far more customization options than other classes, choosing a patron at the first level and a pact perk at the third. Celestial Warlocks should take Chain Pact, which allows them to summon a helpful spirit from the higher planes to target them out of combat. As for Eldritch summons, start by powering up Eldritch Blast with Agonizing Blast, Eldritch Spear, Lance of Lethargy, and Repelling Blast. After that, upgrade their armor class by taking Armor of Shadows and gain temporary hit points with Tomb of Levistus. Finally, Eldritch Sight and Mask of Many Faces allow the Celestial Warlock to cast the incredibly useful detect magic and disguise spells at will.
KEEP READING: D&D: Why Out of the Abyss is a Great Premade Campaign for Experienced Players
Forget Darth Vader: A More Powerful Sith Lord's Disney+ Debut May Shatter Star Wars
About the Author